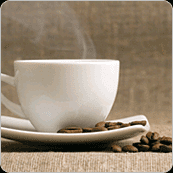 Boresha Coffee — B-Skinny TM
Delicious Organically Grown Coffee
Do you want to enjoy drinking great tasting coffee and burn fat at the same time? Why not try the delicious full flavor coffee from top grade Arabica beans available from Boresha. Boresha – B-Skinny is a unique product that will help you to meet your weight loss goals by simply boosting your body's fat-burning potential.
Call Merle today so she can introduce you to B-Skinny Coffee, Nuvogene Tea and BSweet. These are diabetic friendly. Fat-burning, weight loss, increased energy, reduced stress-related eating, and hunger control results may vary depending on the individual.
Boresha B-Skinny Coffee asserts a legal claim that this product is an energy and fat-burning drink based on a patent per FDA and scientific research.
To find out more about Boresha products, click on Boresha product details and  facts
Please let me known your success with Boresha Coffee by sending me a quick email to acupuncture@merlejfriedman.com. or you can leave a quick reply below with your experience any of the Boresha products.
I appeciate you sharing your comments about Boresha products with others on this website.
Thank you
Merle Friedman